Private Investigator Friend or Foe?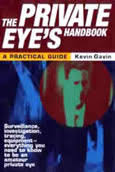 The Private Investigator has always been portrayed in the cinema as a charismatic dark, sometimes sinister figure and in the media as a 16 year old cyberpunk cracking foreign intelligence codes and now, of course, as a criminally minded social intruder and phone hacker.
Many see PI's as a civilian spy, a one-man band trying to make a meagre living from day-to-day routine enquiries waiting in anticipation of the 'big job'.
So what exactly is a private investigator? The ex-police officer serving papers from the court in divorce proceedings? The retired person whose sense of curiosity and justice stirs them into action? Or the slick, quick, industrial-espionage specialist who continually tries to foil and outwit unscrupulous business people who are bent on financial and political power? Or the PI working for them to bring power by information at any price?
The truth of it is that all of the above and many other definitions fit into the world of the modern day Sherlock Holmes. The type of work carried out by investigators is as diverse as the people who take up the profession. As well as the usual, widely accepted and well-known matrimonial and divorce work, the modern investigator can be called upon to act as a professional witness, involved in gathering evidence to support legal applications put before the court. Sometimes the PI will be called upon to work in criminal investigations to help prove a theft or some other crime, and to gather evidence to be given to the police as part of a court case being presented before a judge or passed to a journalist to expose a wrong-doing. On the other hand, the PI may have to work for the defence of a suspected criminal, meticulously sifting through the evidence and challenging any inconsistencies or locating and interviewing possible defence witnesses.
I've worked as an investigator for more than 30 years and I have been called upon to carry out investigations to locate and prove that firms or individuals are manufacturing or supplying goods without the license-holder's consent. Retail and manufacturing companies have used the skills I learned as a soldier to work undercover or to carry out covert surveillance, gathering information to determine how their employees operate out of site of management, to identify individuals or teams involved in theft, using company equipment without consent or selling intellectual intelligence and testing the company's security and systems. I have been deployed overseas working undercover to expose Letter-of-Credit fraud, child abduction and protection. I've lived in attics, under garden sheds, in disused properties, even in drains gathering video evidence to show that a claimant – although saying that he/she is unable to work – is in fact fit and healthy. I've met with Special Branch and handed information over to uncover future terrorists leaving the UK for training abroad.
I would argue that society will always have the need for information and in most cases the needy will not really care how that information was gained.