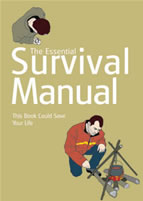 From escaping from a sunken vehicle to navigating by the stars, from self defence to lighting a fire and administering first-aid this book offers a wealth of indispensable knowledge for every reader including:
The mindset to win (psychology of self-defence)
Protection (shelter, water, fire)
Location (map and compass, search and rescue, attracting attention)
Water (solar stills, locating and purifying)
Food (fires, cooking traps)
Surviving People (on foot, transport, natural disaster)
Self-help
First-aid
List of the world's danger spots
Kenn Griffiths Author and Writer credits include;
Books: Usborne Survival Skills, The Private Eye's Handbook, The Private Investigator's Handbook, Spy Master, The Essential Survival Guide, Map and Compass, The Survival Manual.
Magazines: The Royal Geographical Magazine, Survival Weaponry and Tactics Magazine, Countryside Magazine, Why! Army Benevolent Fund Magazine, Daily Agony Column Expert for Inside Divorce E-Magazine.